We arrive on time,
Every time
Trusted for over 20 years
Outstanding service with integrity is my promise to you

DAVID MIKKELSEN

Dux Hot Water Systems in Newcastle, NSW
WE ARRIVE ON TIME, EVERY TIME
Trusted for over 20 years
Why Use Fluid Plumbing & Electrical?
We respect your time and family
We offer interest free finance
Fluid Plumbing install, service and repair Dux hot water systems across Newcastle and the neighbouring communities.
Dux is dedicated to providing all Australians with water systems that deliver great results. Dux pride themselves on being Australian made, as well as being a clean green option for Australian homes.
If you are looking for a quality hot water system focused on being environmentally friendly and efficient, look no further than a Dux system.
Dux has a wide range of hot water systems to suit every home, budget and demand.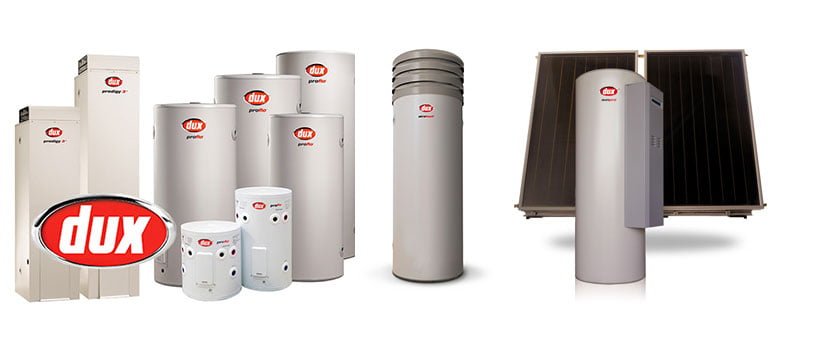 Dux Continuous Flow Hot Water Systems
With such a compact design, the continuous flow hot water systems made by Dux are the perfect addition to your home. Unlike storage systems, the continuous flow system only heats the water when you need it, meaning that you only pay for what you use and you never run out of hot water when you need it. All of the continuous flows by Dux have energy ratings of 5 stars or higher and within some ranges, there are optional controller accessories, giving you greater control over your hot water.
Solar Hot Water Systems
With high-performance black chrome selective surface collectors as the standard among the solar hot water systems Dux creates, you can be sure that you're getting the most out of our natural heater, the sun. With electric and gas booster options, all of the systems crafted by Dux comply completely with the current solar legislation.
Hot Water Storage
With easy installation either inside or outside of your home, Dux has a huge range of hot water storage systems to suit the demands of your home. No matter what size you need or whether you need an electric or gas system, Dux has an option that will fit into the space you have available.
If you're looking to install a hot water system in your home, Contact Fluid Plumbing today to discover our range of Dux systems.

No Interest Finance
Our Customer Reviews