Pipe Relining on the Central Coast, NSW
WE ARRIVE ON TIME, EVERY TIME
Trusted for over 20 years
When it comes to repairing cracked or broken pipes in your plumbing system, there are several methods available to you. Unfortunately, many of those methods require digging a large trench on your property to gain access to the pipe. This can leave you stuck with an unsightly mess, and it can require a lot of time, effort and money to restore your landscaping afterwards. If this sounds like an ordeal through which you don't want to put yourself, you're in luck. Here at Fluid Plumbing Services, we offer pipe relining, enabling us to fix your pipe with no digging whatsoever!
Expert Pipe Relining Services on the Central Coast
When you first get in touch with us regarding your cracked or broken pipe, we'll set you up with an appointment for a free estimate right away. One of our experienced technicians will come out to your home or business to inspect everything and determine whether you are a candidate for pipe relining. We'll then provide you with a no-obligation price quote for the work so you can make your final decision about working with us.
The next step is to clean your pipes to prepare them for relining. We use sophisticated technology, including CCTV drain cameras and high-pressure water jets, to ensure the job is done safely and accurately. We'll remove any debris that has gotten lodged in your pipes and remove any grease or other build-up that has accumulated over time. Once we have verified that your pipes are clean, we're ready to move on to the pipe relining itself.
Using compressed air, we'll apply a fabric liner soaked in resin to the inside of your pipe. To help cure the resin, we then flush your pipes with hot water, enabling the resin to set as quickly as possible. In most cases, the resin will cure in about 24 hours. Your new pipe will be just as durable as the original, if not more so. We'll come back to inspect everything with our CCTV cameras again to ensure the resin has cured properly. You are more than welcome to view the video if you would like.
That's really all there is to it! With no digging required, your plumbing could be back up and running again in just one day. Once we have finished the job, there is nothing else for you to worry about, as you won't need to restore your landscaping. What's more, pipe relining also makes it easy to repair pipes that would be otherwise inaccessible, like those underneath your Central Coast home or business facility.
Brawoliner Pipe Relining Technology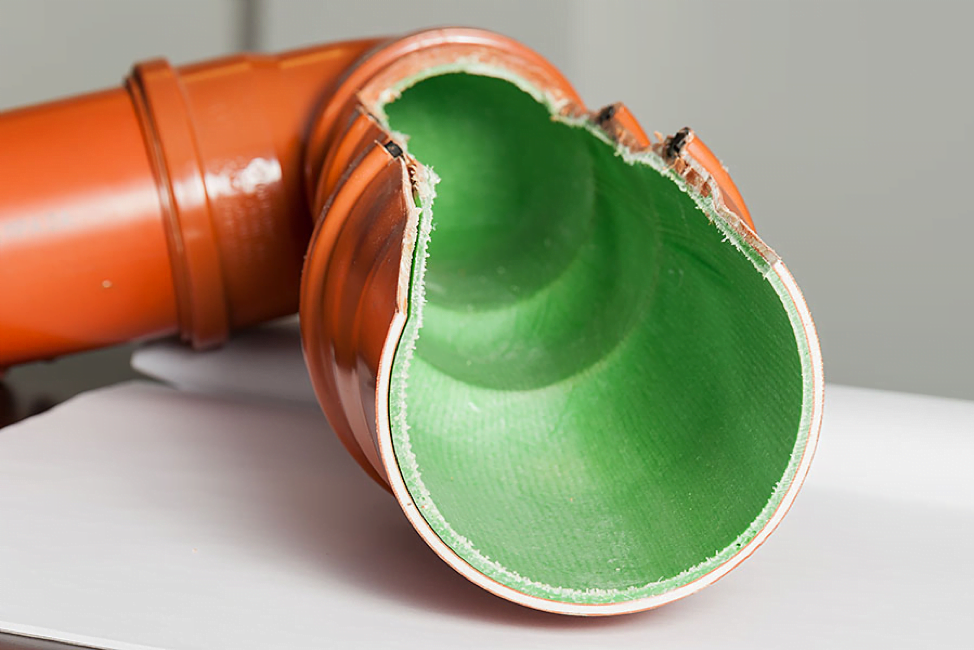 Fluid Plumbing proudly work with Brawoliner pipe relining technology. Brawoliner is made in Germany, meets European quality standards and is a winner of multiple awards.
The Brawoliner pipe relining process:
A flexible liner is impregnated with epoxy resin and inserted into the defective pipe
The pipe is completely lined with epoxy and eliminates all existing and potential damage
The epoxy cures and creates a new, watertight pipe within the pipe
Watch the video to see how the system works:
If you still have any questions about pipe relining or how our process works, we will be more than happy to answer them for you. We are available 24 hours a day to assist you, so don't be shy about reaching out. Our friendly associates will get you scheduled for an appointment with one of our technicians to review your specific situation and provide a price quote.
Here at Fluid Plumbing Services, we truly care about our customers and want to ensure you are completely satisfied with our work. If something doesn't seem quite right, simply let us know, and we will rectify the issue immediately. With any job we complete, we always clean up after ourselves, leaving your property tidier than we found it.


No Interest Finance
Our Customer Reviews