We arrive on time,
Every time
Trusted for over 20 years
Outstanding service with integrity is my promise to you

DAVID MIKKELSEN

Rinnai Hot Water Systems in Canberra, ACT
WE ARRIVE ON TIME, EVERY TIME
Trusted for over 20 years
Why Use Fluid Plumbing & Electrical?
We respect your time and family
We offer interest free finance
At Fluid Plumbing it's our job to provide Canberra residents with reliable information on their choices for quality hot water heater systems. One of our recommended brands is Rinnai since their high standards means longer water heater life, fewer maintenance issues and better energy efficiency for the life of the unit.
Over the last 20 years of providing Rinnai to our clients we've come to trust their performance and quality offering, especially around:
Reliability
Water conservation
Energy efficiency
Family safety
Low environmental impact
Staggeringly, Rinnai produces over 12 million appliances, distributed globally each year. Australia has its own wholly owned subsidiary of the Japan-based Rinnai corporation which gives our Fluid Plumbing team in Canberra direct access to Australian-based suppliers for any orders, servicing or parts you may need over the course of your heater life.
Rinnai offers a large range of quality gas, electric and solar water heaters to cater to any hot water system and set up your Canberra home needs including a wide range of different sizes and styles and easy replacement that keeps installation costs down along with minimal maintenance, even as the unit ages.
As well as new and innovative products, Rinnai also maintains a quality range of more traditional hot water tanks in gas and electric storage.
Ask about how Fluid Plumbing can help you plan ahead to choose the best possible Rinnai hot water heater that will deliver the high efficiency and reliability you expect. Even if you are buying a quality hot water system, if the application or set-up is wrong it can reduce your system performance, overwork the heating elements or leave you without enough hot water to get through your day.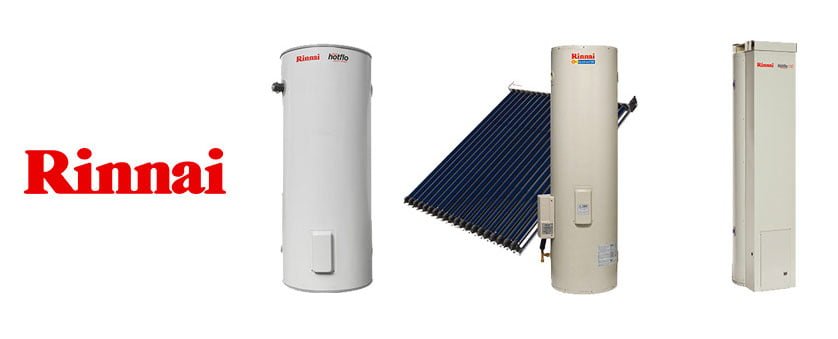 Benefits of Rinnai Continuous Flow Hot Water
Rinnai offer great products across their entire range but there is one particular hot water heater of theirs we recommend the most and that's the continuous flow water heater. This is Rinnai's trump card.
Rinnai offers the largest range of continuous flow water heaters in Australia with their famous Rinnai Infinity still ranking as the number one choice for continuous flow hot water systems globally.
These hot water units heat water on demand as it passes through the pipes so you only use energy when hot water is required. Small enough to suit apartments or be installed on bathroom walls, you'll get the very best in modern technology, energy efficiency and reliability.
Rinnai's innovative products are specifically designed to be environmentally conscious with high energy efficiency and low emissions. From what we've seen through our years of installation and service, the technology of the continuous flow range is no exception. It takes a little longer to heat initially compared to a tank storage heater, you'll see a real difference to your energy bill as well as having hot water that never runs out.
If you find you don't have enough hot water to get you through the day, or maybe even through the morning shower routine, give us a call to look at the Rinnai compact design and endless hot water options.
Rinnai Infinity Hot Water Systems
Rinnai are known world over for their Rinnai Infinity, a continuous flow gas hot water system with incredible energy efficiency that is environmentally friendly.
Because it heats water as it travels through your pipes, you only need energy for the water you are using. That means there is less maintenance as it doesn't need a tank that is prone to corrosion and there is no wasted energy keeping water hot all day. The compact size takes up significantly less space and is able to be mounted on bathroom walls for direct water to your taps and shower.
There are a number of Rinnai Infinity sizes and styles to choose from to suit your hot water needs including:
The Infinity 12
Providing continuous hot water to one-bathroom homes. With a 6.2 Star energy rating, the 12-litre system is the most energy-efficient tankless hot water heater on the market.
For added safety and convenience you can opt to add hot water controllers to customise your water temperature at the tap – perfect for protecting kids from scolding.
Infinity 16
This compact 16-litre continuous flow hot water system can be connected to either natural gas lines or LPG to give you high energy efficiency together with a hot water supply that never runs out. Its 6.2 star is the most energy-efficient rating for its size in Australia. Ideal for one-bathroom homes the compact unit is durable in the cold and heat outside but we can easily install this one for your inside if you prefer.
Infinity 20
Engineered to withstand Australia's tough climates, including Canberra's icy winter mornings, the slimline infinity 20 saves space with mounting inside or out. It comes with a built-in temperature control display and pure temp stability control. While there are advanced safety monitoring features built into the Infinity 20, most of our customers love the added flexibility to include on-tap temperature controllers too.
Infinity 26
The infinity 26 is the product we see most in our installations through Canberra. It definitely is Australia's favourite continuous flow system and Rinnai's flagship piece. It's perfect for both one and two-bathroom homes, it still retains a 6-star energy rating even while warming 26 litres at a time. You also get an incredible 25-year extended heat exchanger warranty along with:
Temperature control display
Safety monitor
Puretemp stability control
6.1-star energy rating
Continue hot water flow
Low greenhouse gas emissions
To get even more flexibility there are four styles within the 26-litre range for you to choose from including the:
Infinity 26 Touch
Infinity touch has all the Rinnai 26 features plus their unique and exclusive wireless temperature control.
Infinity 28i (Internal)
Engineered for internal domestic installation the 28i works with a dedicated co-axial flue system to be installed just about anywhere.
Infinity 32
The 32-litre Rinnai infinity heats large amounts of water rapidly, providing busy households with hot water on demand with incredible energy efficiency with an endless supply. Designed for 2-3 bathrooms the larger unit heats more water instantly while still providing eco-efficiency with a 5.9-star energy rating.
You also get a choice of two styles with the extra option of the Infinity 32 ENVIRO. Using 97% thermal efficiency and inbuilt energy recovery, this system uses less gas and further reduces greenhouse emissions, even compared to the highly efficient infinity systems. The robust stainless steel internal construction also allows a 12-year heat exchanger warranty and is available in both the 16L and 32L models.

No Interest Finance
Why Choose Fluid Plumbing
With a huge range of hot water systems for every Australian home, you can be sure a great fit can be met with Rinnai as well as the workmanship of our licensed and insured professionals.
Our Customer Reviews