Blocked Drain Services on the Central Coast
WE ARRIVE ON TIME, EVERY TIME

90 min Guaranteed Service
We will dispatch a plumber to you within 90min of your phone call, otherwise you will receive a 15% discount.
This offer applies mon to Friday 7:30am till 4pm normal work days does not apply to weekends or public holidays.
365 Day Warranty
We will return free of charge in the first 365 days should your drain block again.
For all your blocked drain needs, call your local plumbers at Fluid Plumbing Services today.
Interest Free Finance
Interest Free Finance with Lombard allows you to finance your blocked drain service through Fluid Plumbing and pay no interest over the agreed period. Apply Online Today


Trusted for Over 20 Years
Satisfaction Guarantee
No Surprises Guarantee
Workmanship Guarantee
We respect your time and family
We value your home
We offer interest free finance
Learn more about our Guarantee Certificate
Learn more about our Interest Free Finance
There is nothing worse than a blocked drain in your home. Whether it is the drain in your kitchen sink, your shower or bathtub, or even your toilet, the experts at Fluid Plumbing Services can fix the problem right away. We work with both residential and commercial clients to keep their plumbing running smoothly.
However, blocked drains aren't just a pain to have to deal with, taking you away from your more important daily activities. It is in your best interest to fix blocked drains right away because they can cause flooding or other damage to your property, potentially costing you significantly more money down the track. They can also be a danger to you and your family or clients, increasing the risk of mould and mildew in your home or place of business.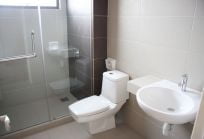 Expert Services
With Fluid Plumbing Services, you'll never have to worry about blocked drains again. Our highly experienced technicians are on call and available to serve you 24 hours a day, 7 days a week. We have the skills and expertise to get the job done right the first time.
We make use of the latest and best technology in the plumbing industry. Drain cameras enable us to locate the source of the clog as quickly as possible. This way, we can pinpoint the problem so that we can fix it with minimal risk of damage to the rest of your home. High-pressure water jets help us to eliminate the clog faster than you ever thought possible.
We can save you money using the latest no-dig technology to repair broken drains. Our pipe relining service inserts a new pipe inside the existing pipe and eliminates leaks and blockages. This can eliminate the need to dig up and replace the existing broken pipe.
Best of all, our services are efficient and affordable. We work hard to keep our costs down so that we can pass the savings onto you, our valuable clients. We will always be upfront and honest with you about the work that is needed and the costs involved. We don't want there to be any surprises when the bill comes. It's all part of our commitment to exemplary customer service.
Trust the Experts at Fluid Plumbing Services
The next time you are in need of drain services on the Central Coast, in Lake Macquarie or in Gosford, all the way to Brooklyn, you know who to call. Fluid Plumbing Services is your source for expert plumbing care when you need it most. Give us a call at today, and we'll dispatch one of our experienced technicians to your location as quickly as possible so that you can get back to your daily life.
Call us today. Your drains will be glad you did!
CALL YOUR LOCAL PLUMBERS TODAY
If you're still not convinced that Fluid Plumbing Services is right for your blocked drain needs, here's some proof from one of our past clients:
"I was genuinely impressed with the service provided by Fluid. I contacted the office mid-afternoon to report a serious leak somewhere between the water meter and the house. I was surprised when they told me a plumber would be onsite that afternoon and even more surprised when Matt the plumber arrived within the hour.

As difficult of a job it turned out to be to isolate the leak fairly deep underground, the problem was resolved promptly and professionally the same day. Thank you to everyone at Fluid from the service desk to Matt. I would highly recommend Fluid Plumbing to everyone. Prompt, Polite & Professional all the way. 10/10"
~Testimonial from Dean W.
The next time you have a blocked drain in your home, don't wait to get it fixed. Call Fluid Plumbing Services right away!
Interest Free Finance

Our Reviews
CALL YOUR LOCAL PLUMBERS TODAY